Car License Recognition, Screen Display, and Setting Image
ANPR Related NVR& DVR Solution
ANPR Moving Image Recording Solution recognizes the car license plate number automatically and display it on the live screen of the channel and then record the number to the DB with the still image and moving image together.
Support the search the image with car license number during the designated time period and still image search, moving image search with license number together.
Car number search with registered car number, camera number etc.
Support the Image from the HD-SDI or IP camera video input.
Recording Still Image and Moving Image together with car number
Control Gate Up and Down, and show license number to the LCD.
Counting the IN and OUT Car.
HD-SDI or IP Camera

Car license recognition automatically

Gate Control

Car number to LCD
Car License Recognition, Screen Display, and Setting Image
Support the recording of the captured image, moving image and recognized car license number together from the video of the HD-SDI or IP camera
Support JPEG file backup with the car information.
Support 2CH, 4CH, 8CH ANPR in one system with normal video on the 4CH,8CH,16CH,32CH NVR or DVR system.
The system show the recognized time, registered information, license image, and counting on the designated screen. The show position can be changed by the setting.
HD-SDI or IP Camera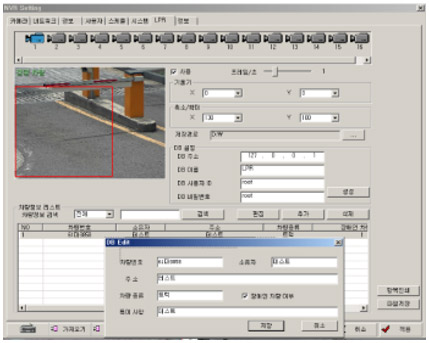 The still image can be saved to the designated drive by the user and record the car number to the DB.